3 Unique Abdominal Exercises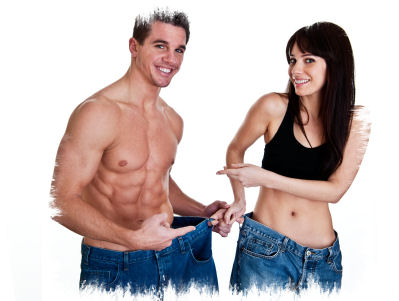 While there are many basic abdominal exercises including crunches, sit-ups, leg lifts, etc...I thought I would take a moment to share with you some more options for metabolism boosting high intensity abdominal exercises that will work your abdominals along with your entire body. Following these simple workouts will get you a rock hard stomach, but also provide you with a much better fat burning exercises compared to the typical abdominal exercises your used to. These abdominal exercises don't really target your abdominals at all, but by doing the exercises listed below you will definitely feel it in your abs. These exercises are done in a tri-set format, but alternating between 3 exercises.

All pictures are provided by Mike Geary founder of The Truth About Abs Program.

Let's get started.
1a: The Renegade Dumbbell Rows
1b: The Front Squats With Barbell
1c: The Mountain Climbers On Floor
While doing these exercises, a good rep count to follow would be 3-4 sets of 8-10 reps each exercise, or you can do more sets for less reps, such as 6 sets of 6 reps of each exercise. The mountain climbers could be done with a timed interval (such as 25 seconds).
Exercise Descriptions
The Renegade Dumbbell Rows
These are done by starting in a push up position, you will also need 2 dumbbells. Instead of your hands flat on the ground like in a typical push up, you want to place them on the dumbbells, then what you want to do is row one dumbbell in a upward motion out in front of you while stabilizing your body with your other arm. Bring the dumbbell back to the ground (starting position) and then do the same dumbbell row with your other arm. This stabilizing effect will create tremendous work for your abdominals. Believe me, you will feel it in your abs.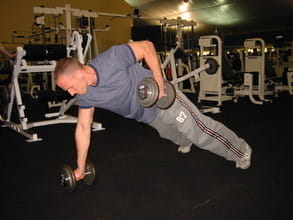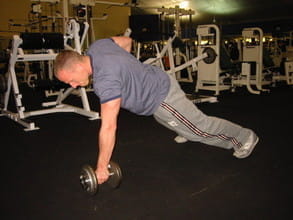 Front Squats
These are done simular to back squats, but, these are done with the barbell placed on the front of your body and you want the barbell resting on the front of your shoulders. The barbell is stabilized on the front of your shoulders by you crossing your arms and by pushing your fists into the bar against your shoulders while keeping your elbows out in front of your chest.
This does take some practice to get used to at first, so you may want to contact a personal trainer at your gym to help you with your form. Front squats require extreme stabilization strength from your abdominals due to the barbell weight being rested on the front of your body. Even though this is really a leg exercise, however you well feel your abdominals working.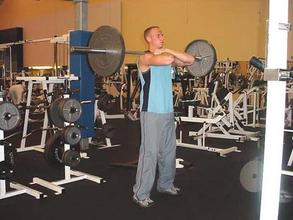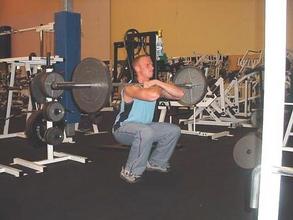 The Mountain climbers
The way this exercise is done is you want to start in a push up position, then what you need to do is start moving your legs back and forth. It is almost like climbing a mountain, but you will be doing it on the ground. If you want to challenge yourself try this advanced version, to do this all you need to do is include your arms in the exercise. while moving your legs in the standard version, do the same with your arms, you want to move them back and forth about 8-10 inches in front of you. Adding your arm movements really makes this a whole body exercise and a MUCH more difficult than the standard exercise.